09.01.2018
MAPS.ME now features metro routes and suggestions nearby
MAPS.ME were the first ever in the world to launch offline navigation for metro and light metro with via point in 74 cities worldwide. In addition, the app will suggest interesting places located within walking distance - attractions, cafes and restaurants, and trips provided by the Viator service.
The new MAPS.ME version will help you reach your destination with metro in 74 cities in 40 countries around the world. The app sets up the fastest route accounting for the walking part of the route and travel by metro or light rail. If users would like to build a more complex route comprised of several parts, they can add a via point. Such a route can have several sections both by transport and on foot.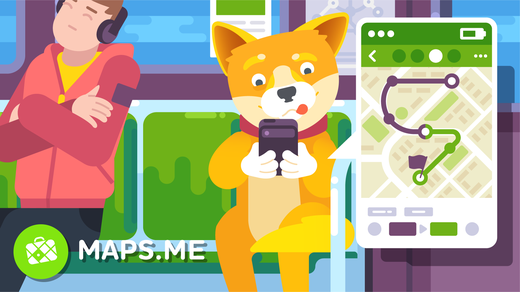 Moreover, after the update, MAPS.ME will feature a Discovery function which will assist tourists in finding the nearest attractions in a strange town or discover something new in a well known city. With a tap on the relevant button, the app will display a selection of interesting places within a 2-kilometer radius: You can peruse the closest attractions or the closest venues (cafes, restaurants, bars, etc.). The function works even offline. If the user is online, MAPS.ME will also show trips and tours available in town with the Viator service.
The new MAPS.ME version for iOS also makes it easier to book hotels on Booking.com. Now users can specify their check-in and check-out dates, and the map will display only those hotels which have vacancies for those days.
The updated MAPS.ME versions are already available in the App Store and Google Play.
"We in MAPS.ME pay great attention to our multimillion audience's opinions and aim to develop products based on our key values: production speed, interface simplicity, reliable offline operation, and efficient energy use (resources, battery). Tourists all over the world highly value these advantages, and our team believes in their importance. This approach enables us to solve real user problems and create truly unique products. Our research shows that approximately 70% of the tourists use public transport to get around town. Oftentimes, this is the fastest and least expensive mode of transportation, and the ability to build routes offline ensures tourists that they will not get lost in a strange city. We have tested the popular navigators offered by the biggest global players and found that nobody else offers the full-scale ability to build metro routes offline with via point. We have implemented this functionality, and it will be extremely valuable to tourists when they plan their optimal route for going around town."- says Eugene Lisovskiy, CEO of MAPS.ME